While a few players are guaranteed to start, there remain a few positional question marks that might take a while to sort out. Most of the talk surrounding Chivas USA this offseason has revolved around the exit of Jorge Vergara and the unknown future of the club. Throughout all this talk and all the speculation, the club has made a considerable amount of changes to the roster and has quietly put together an undefeated preseason that has fans buzzing about what might be in store for 2014.
2013 record: 6-20-8, 9th in the Western Conference
Key Additions: Mauro Rosales (M), Adolfo Bautista (F), Tony Lochhead (LB), Andrew Jean-Baptiste (CB), Agustin Pelletieri (DM), Luke Moore (F), Dani Fragoso (DM), Donny Toia (D/M), Eriq Zavaleta (F), Andrew Ribeiro (D/M), Leandro Barrera (M/F)
Key Losses: Mario de Luna (CB), Edgar Mejia (M), Julio Morales (F), Patrick McLain (GK), Steve Purdy (CB), Marvin Iraheta (M), Josue Soto (M), Jose Manuel Rivera (F)
PROJECTED STARTING XI: 4-4-2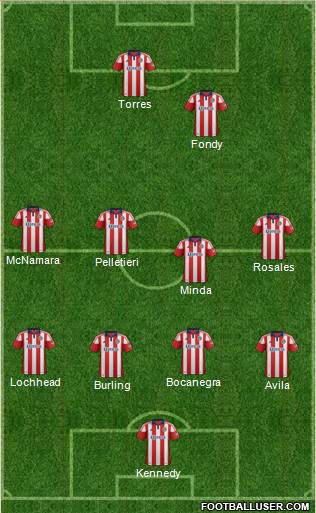 Coach Wilmer Cabrera's entire gameplan seemingly depends on what he decides to do with the midfield. He'll likely depend on the utilization of two defensive mids, most likely Minda and Pelletieri, to bolster the iffy backline. Should he see a need to get more offensive, subbing in a more creative, attack-minded mid like Carlos Alvarez would be an option. Spanish defensive midfielder Dani Fragoso has also seen a fair amount of preseason playing time and figures to get his name into the lineup on a regular basis. He could also choose to go with a 4-2-3-1, keeping the two DMs, but adding a creative playmaker like Bofo up top to supplement the attack below Cubo.
UNSETTLED POSITIONAL BATTLES
CB - Bobby Burling or Andrew Jean-Baptiste: When the fast, strong, and athletic Jean-Baptiste was acquired, many thought he would immediately take over the CB slot next to Bocanegra. The preseason would say otherwise - Cabrera almost always went with the Bocanegra/Burling paring and featured AJB only in experimentation/evaluation lineups. At the moment, the edge at CB looks to belong to the incumbent (Burling), but AJB could gain Cabrera's trust as the season progresses and make a move for that starter's spot.
LW - Thomas McNamara or Leandro Barrera: Bryan de la Fuente appeared to be the front-runner to start once again at the left flank but McNamara gradually started getting more and more of those preseason minutes at the position. With the inclusion of Leandro Barrera, who also has experience playing the wing with Argentinos Juniors, Chivas USA all of a sudden potentially has a surplus of players at a position they initially struggled to fill. De la Fuente has since been waived and McNamara's solid preseason has appeared to have locked him in as a starter.
Cubo's accompanying striker - Fondy, Bofo, or Moore: Going into the season, most assumed that Bofo would be Cubo's striking partner, but the real hot hand at the moment is none other than fan favorite Matthew Fondy. Fondy has gotten the most looks with Torres this preseason and appears to have earned himself a starting job. With Bofo and Luke Moore available, it will be interesting to see which of the three, if any, are able to lock themselves down as a regular starter. I foresee a platoon in the works since you don't bring in talent like Bofo and Moore to have them ride the bench.
STORYLINES TO WATCH:
Avila the Defender: This preseason, Wilmer Cabrera had options at right back including Carlos Borja and Andrew Ribeiro, but has decided to give attacking midfielder Eric Avila a look at the defensive position. The move clears the way for Rosales at RM, his natural position, and also frees up a spot for the utilization of 2 additional midfielders to provide that much-needed defensive support. Unfortunately for Avila, he'll have to learn on the fly and may have an off-year as a result, but who knows, he could potentially shine and provide an extra boost to the offense as a right wing back. If Bob Bradley could pull it off with Jonathan Bornstein back in 2006, maybe Cabrera can do the same with Avila.
Will Bofo Stay Interested? Aside from Rosales, the other big-name acquisition was Bofo Bautista, who is best remembered for his success with Chivas de Guadalajara in the mid 2000s. If Bofo is at his very best, in good football shape, and doesn't lay down any drama to a club that's just starting to recover from being in a state of disarray, this acquisition could be a steal. Heck, if Bofo is the Bofo of old, he could potentially be a dark-horse candidate for MLS MVP - I'm not kidding here, he's of that quality. He's incredibly creative with the ball, has great control, and is a solid creator in the final third - something the team has lacked for years. But even I know I may be getting ahead of myself and the sad reality is that it's been a number of years since Bofo has been relevant. Bofo has unfortunately become plain ol' Adolfo since he left Guadalajara. At 34 years of age he's now older, slower, more broken down, and his fitness levels have been questioned. It's also concerning that Bofo indirectly mentioned that his motive for playing for CUSA was to eventually retire with CGUAD. Now that the CUSA/CGUAD bond has been broken, there's no telling whether Bofo will be interested enough to put forth the effort necessary to succeed in the league.
Can Mauro Rosales Help this Offense? Even at 32, Rosales is still by far one of the best crossers in the league and will continue to cause problems for opposing defenses on the right flank. The guy can serve a ball with pin-point accuracy and provide players, especially those with great aerial ability, with fantastic opportunities to score. His presence alone should open up the field a bit more and keep defenses honest. Also, as evidenced this preseason, he's a legit set-piece specialist, something CUSA has always seemed to lack. Rosales should be able to improve a Chivas USA attack that ranked at the very bottom of the league the past two seasons. The team's offensive struggles were half the reason our defense was so horrible, so hopefully Rosales' presence will unload a bit of that weight and return a little bit of balance to the system.
-----
PREDICTIONS
Leading Scorer: Cubo - Cubo was able to score 7 goals in 15 games last season, which over the span of a full season, comes out a little over 15 goals. Keeping in mind he was able to accomplish this without much talent around him, he should have a breakout season with Rosales and crew feeding him opportunities.
Most Assists: Rosales - Rosales registered 8 assists last season. The rest of the Chivas roster combined registered 9.
MVP: Rosales - Aside from Kennedy, Rosales is the engine of the squad. The club's success will hinge on whether he can stay healthy and produce at similar levels
Defender of the Year: This is a category that's hard to decide on since the club lacks a bona fide, legit, defender. Avila's essentially playing out of position, Bocanegra's not his old self, Lochhead has proven to be mediocre at best, and the fact that neither Burling nor AJB has separated themselves for that starting CB spot is telling. As a result, I'm taking the easy way out here and going with DK.
Bold Prediction: Tommy McNamara is among the Rookie of the Year discussion by the season's end. If I'm being bold here, I'll say he'll actually win it. #McMullet
Attendance: While I have yet to come across any marketing attempts to promote the club in Los Angeles, I do think the sale of the club has raised a few eyebrows. It's safe to say that it's going to be higher than last year's embarrassing average attendance of 8,366. Whether or not the club decides to continue using the tarp is another question.
Fantasy Pick: Dan Kennedy - Aside from the Columbus Crew's Matt Lampson, Dan Kennedy is the only starting goalkeeper you'll find for under $5.0. Even with the swiss cheese defense of 2013, Kennedy was still able to muster the production that enabled him to finish 9th overall among goalkeepers. The defense has improved, but not to the extent that will prevent him from once again leading the league in saves and possibly getting an ever so slight increase in clean sheets. He's an excellent "bang for your buck" pick.
Sleeper Fantasy Pick: Thomas McNamara - The versatile McNamara can play the positions CUSA has vacancies in and should be able to see a good amount of minutes this season. His knack for creating something out of nothing and his ability to finish should make him worth every last bit of that $4.5 price tag. A solid sleeper that should increase in value as the weeks progress. (Same could go for Matt Fondy, a steal at $4.0 considering forward prices are usually cap killers.)
Best Case Scenario: The team manages to ride the momentum from their undefeated preseason and develop it into a hot start. The backline is properly assisted by the defensive midfielders and the team does a decent job of keeping games close enough to steal some points. Cubo sticks around and Bofo returns to form. A back-end playoffs entry could be in sight and that alone would be a phenomenal turnaround for a club that hasn't reached the post-season since 2009.
Worst Case Scenario: The team fails to get off to a good start, especially considering the tough opening stretch of games. The Minda and Pelletieri project doesn't appear to be a sufficient enough solution to bolster that ragged back line, while stunting the offense, and GK Dan Kennedy is once again turned into human target practice. Torres somehow ends up leaving mid-season and Bofo gets discouraged by the poor results and lack of playing time, leading to a state of apathy and indifference. On the bright side, I do believe the team has enough organization and leadership to at least improve upon last year's debacle and would be known as the league's most exciting bad team in the league.
SEASON OUTLOOK/PREDICTION
At the beginning of last season, I genuinely thought we had a legitimate shot at sneaking into the playoffs and boy was I wrong. On the other hand, it wasnt exactly your normal season and a variety of on and off-the-field distractions played a significant part in last season's debacle. That being said, I do think the club has done enough to make this team better and has added enough depth as insurance for any unforseen circumstances. While the attack has been improved, the defense remains a giant question mark. Bocanegra, Burling, and Lochhead aren't exactly speedsters and when you think about how Deshorn Brown was able to take advantage of that this preseason, it's not hard to admit that we could be in trouble.
There's no doubt that 2014 will be Chivas USA's fifth consecutive rebuilding season and its unfortunate the saying "fifth time's a charm" has no merit to it. This isn't a process where a Mayflower truck can swing by and fix things overnight. It'll take time to rebuild last year's mess and a few simple off-season roster moves wont be enough to transform Chivas USA into a playoff-ready club in the mighty West. On the bright side, with Wilmer Cabrera's leadership, the club should begin to regain some respectability. This will be a process and CUSA fans should be excited to see things finally moving in the right direction.
I predict Chivas USA to make a respectable push for the playoffs but just miss out. Considering our recent past, if we're able to be relevant come September or October, that should be seen as a massive success and keep fans excited for the great rebrand of 2015.
What do you think? Leave a comment below!